Similar to the previously introduced Racing Boy VD forks. After a period of absence, Racing Boy Premium VD fork gold fork is back with the appearance attached to PCX 2018. Customers who own the 2018 PCX series, hurry to one of the 2 branches of Hoang Tri Racing Shop to get Consult and install this cult fork for your pet.
Maybe you'll like:  Baga after PCX 2014-2018 CNC aluminum - SMOK
The appearance quickly and almost absent in the past time does not make the high-end Racing Boy fork in black tone lose hot. Racing Boy Premium VD fork with gold fork mounted on PCX 2018 was well received by many brothers with enthusiastic support. True to the name of the product, the Racing Boy Premium VD fork almost captures the hearts of the brothers who love the fork for the car. With  a traditional design, the oil tank is located above and in the direction parallel to the car's spring and the manufacturer brings a completely new and unprecedented color on the Racing Boy fork which is black combined with Gold accents make the car more attractive with this color. Racing Boy forks become more classy and genuine with this black and gold color version.
Racing Boy Premium VD oil tank fork  with PCX 2018 standard is well packed with a very luxurious looking box and inside the box comes with 2 springs for you to replace after a period of use, making the springs become old. The PCX 2018 fork does not need to be made or cut plastic on the car, but it can still be installed. Therefore, customers who are far away can order and can easily and quickly attach the fork to the vehicle. Order now on the website as well as the sales channels of Hoang Tri Racing Shop for support.
Racing boy Premium VD  forks can be adjusted to your liking: Adjust the shock and elasticity of the fork. Depending on your needs, you can customize it to be more comfortable for long-distance trips. In addition to Racing Boy forks, Hoang Tri Racing Shop also has many types of motorcycle forks for you to choose according to your preferences. Come to one of the two branches of Hoang Tri Racing Shop to experience it directly.
Address 1: 158 -160 Han Hai Nguyen, Ward 8, District 11, HCMC
Address 2: 586 Pham The Hien, Ward 4, District 8, HCMC
Phone:  0909 4747 13 - 0909 5030 25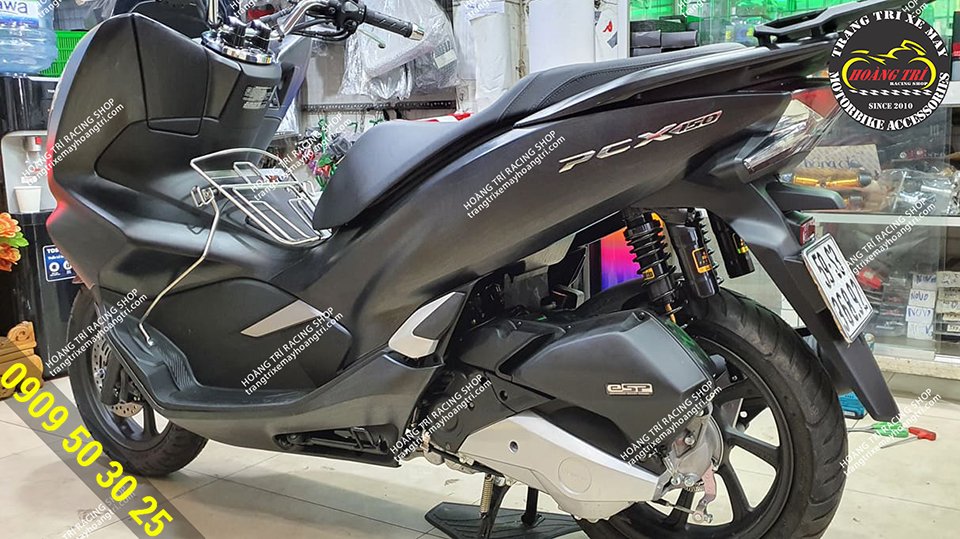 The PCX 2018 in black on Racing Boy Premium VD forks with gold forks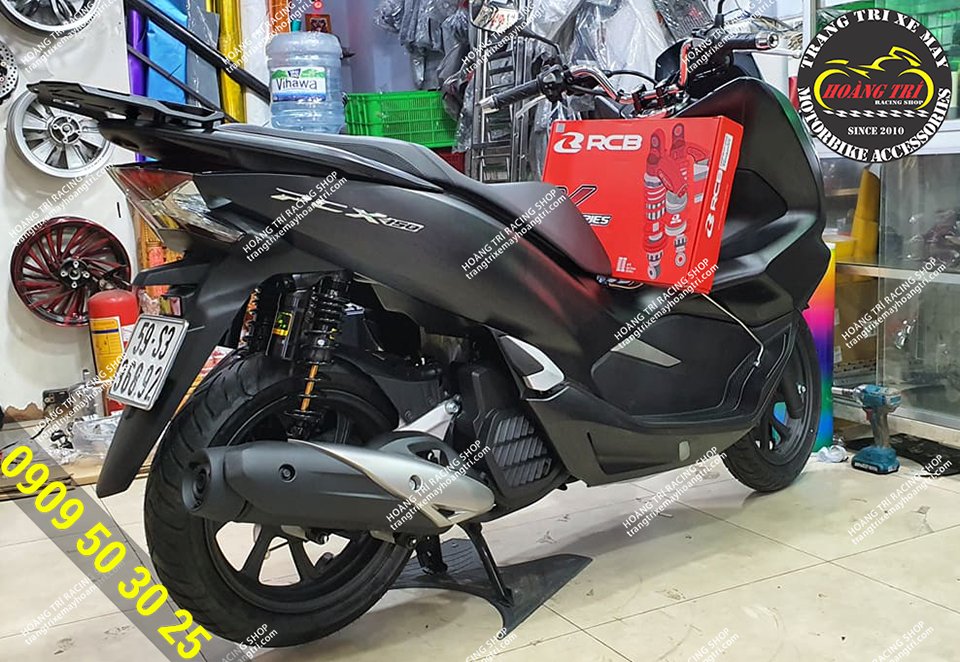 On the baga is the Racing Boy VD Premium fork box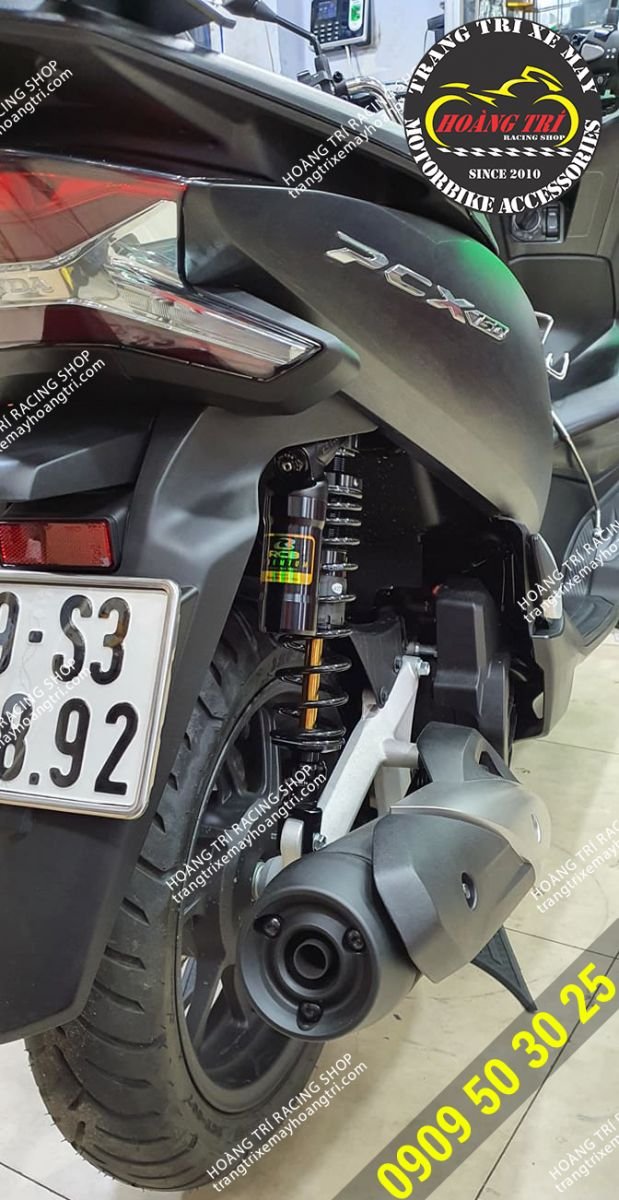 With golden fork and logo make the car very attractive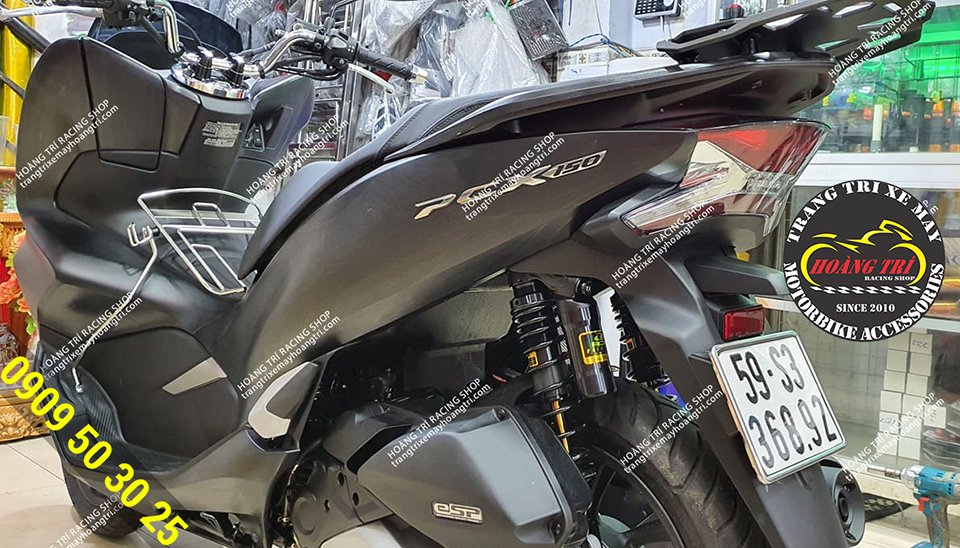 Close-up detail of Racing Boy VD fork mounted for PCX 2018