One more option to decorate the car for the brothers who own the CB650R series is the CB650R reflective wheel stamping to create a highlight all day and night. For the morning, the color of the stamp will create a highlight to attract everyone's attention. For the evening, the stamps of the tray will reflect to bring out the highlights at night. Immediately paste the CB650R reflective wheel stamp to enjoy walking around!
Maybe you like: Motorcycle ppf stickers
Is it difficult to stamp CB650R reflective wheels?
For stamping reflective wheels in general and in particular the CB650R series in particular. If it's difficult, it's not really, just watch carefully before removing the glue and gluing it to the car, you will have a pair of beautiful wheels with a unique set of stamps. However, it is necessary to note the curve on the tray - this position you need to be careful and slowly pull firmly to avoid extrusion of unsightly glue.
>> Reflective decal stickers for other car models <<
The interesting thing about the CB650R wheel decal sticker is that the reflective feature of the material makes the stamp more prominent at night when the light shines on the wheel. It looks exactly like your car, equipped with bright LED lights that are very attractive. Products decal stickers reflective CB650R wheels have many colors for you spoiled for choice to fit your car. Customers can refer to more pictures below to have a better overview of the product. If you like a model, you can save the image and go to one of the 2 Hoang Tri Shop branches to paste it right away for your pet!
Address 1: 158 -160 Han Hai Nguyen, Ward 8, District 11, HCMC
Address 2: 586 Pham The Hien, Ward 4, District 8, HCMC
Phone:  0909 4747 13 - 0909 5030 25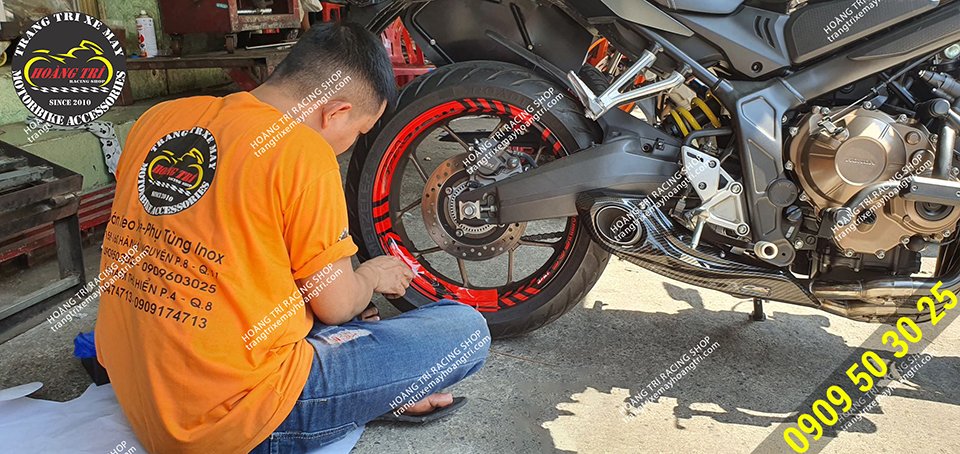 Employees are constructing reflective decals for CB650R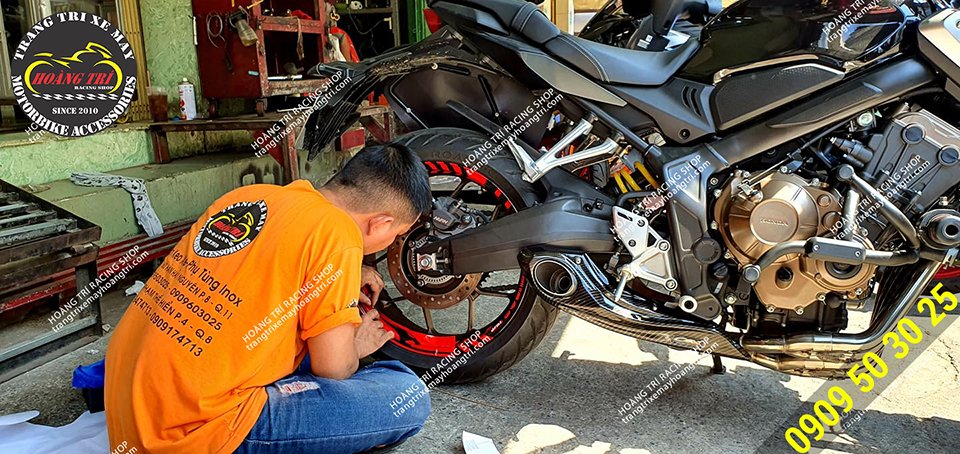 The customer chose red to make the car stand out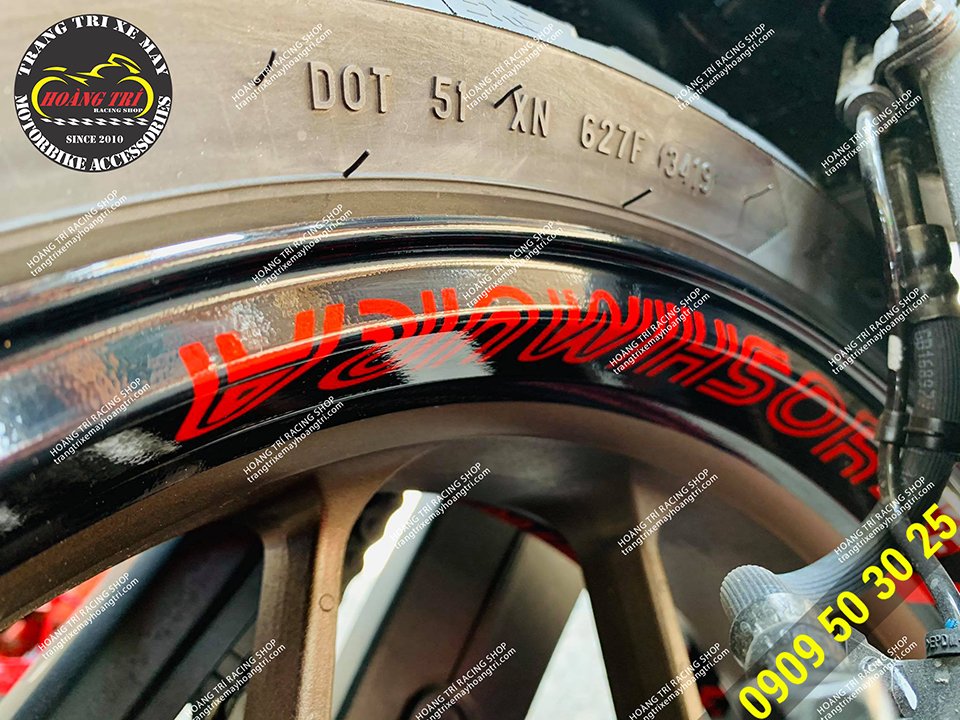 Close-up angle of stamps that have been pasted on CB650R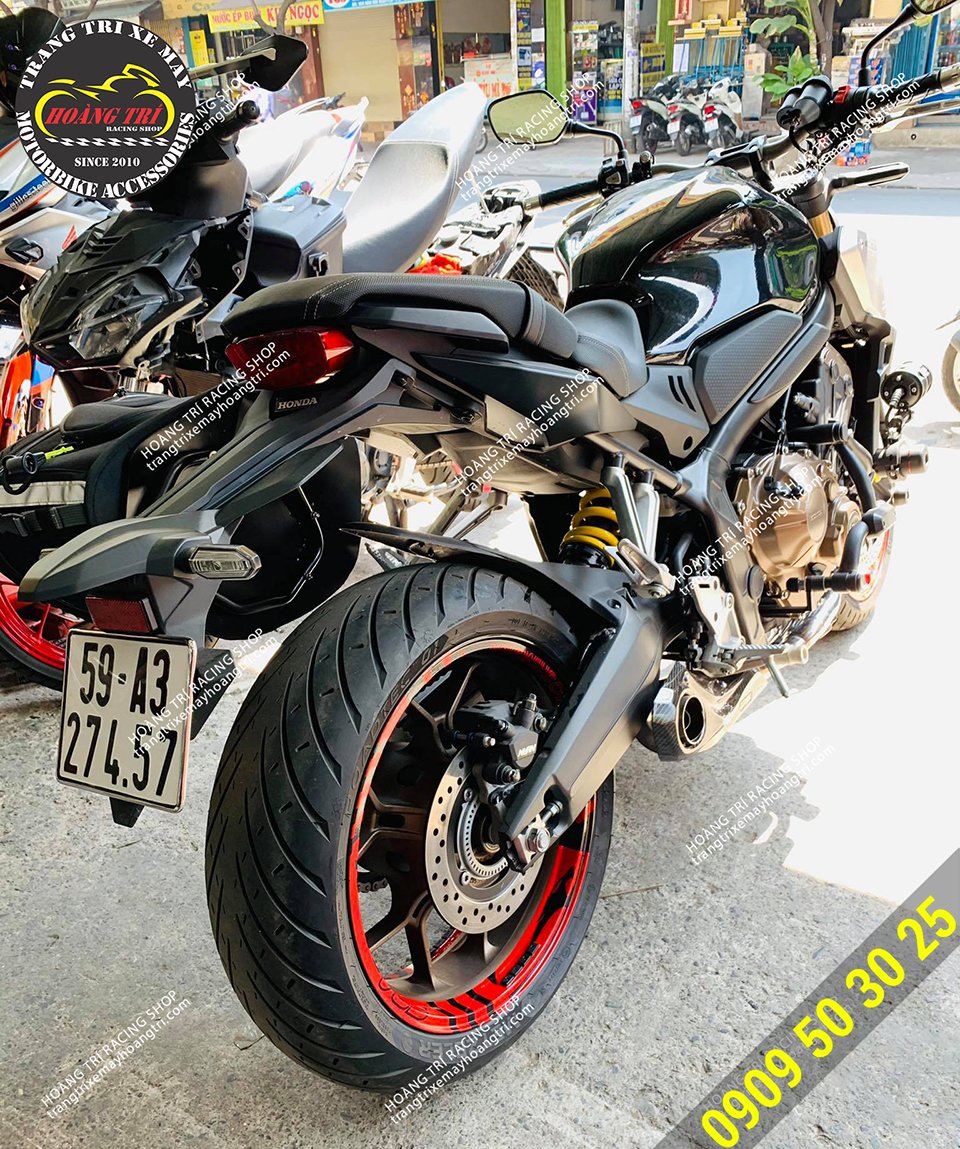 The attractive red color on the car brings many people's attention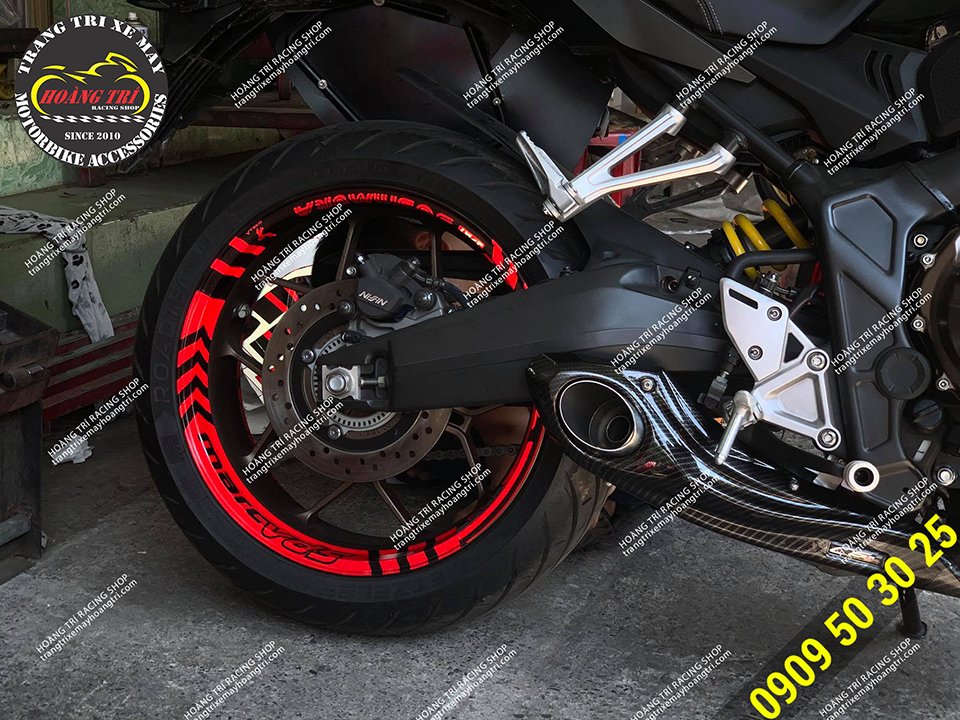 Shooting in flash mode with light that makes the reflections stand out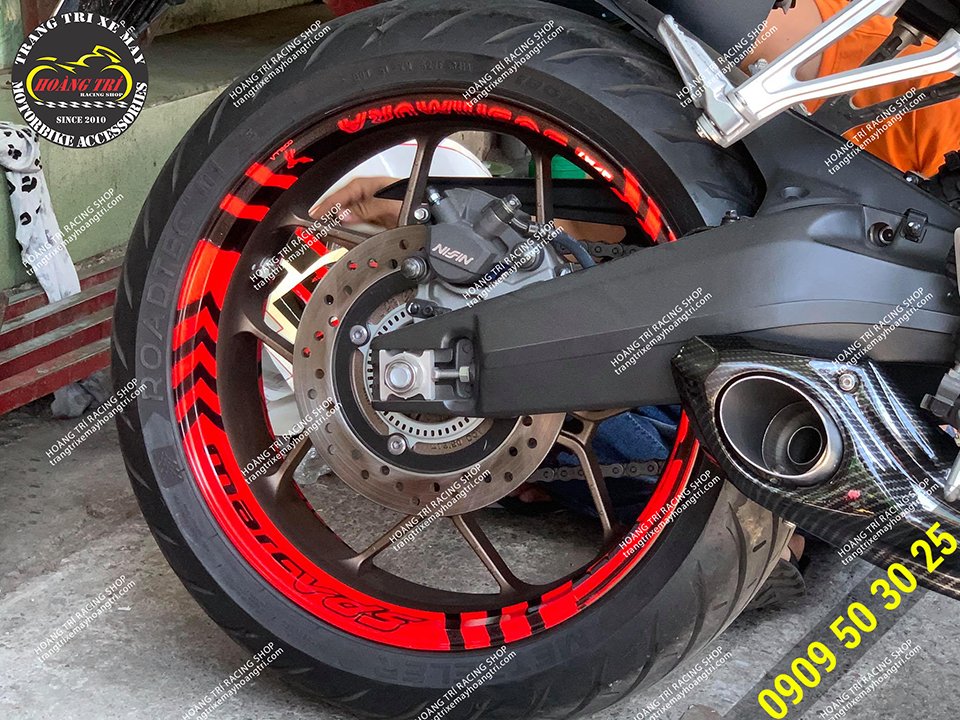 Colors and textures you can change according to your preferences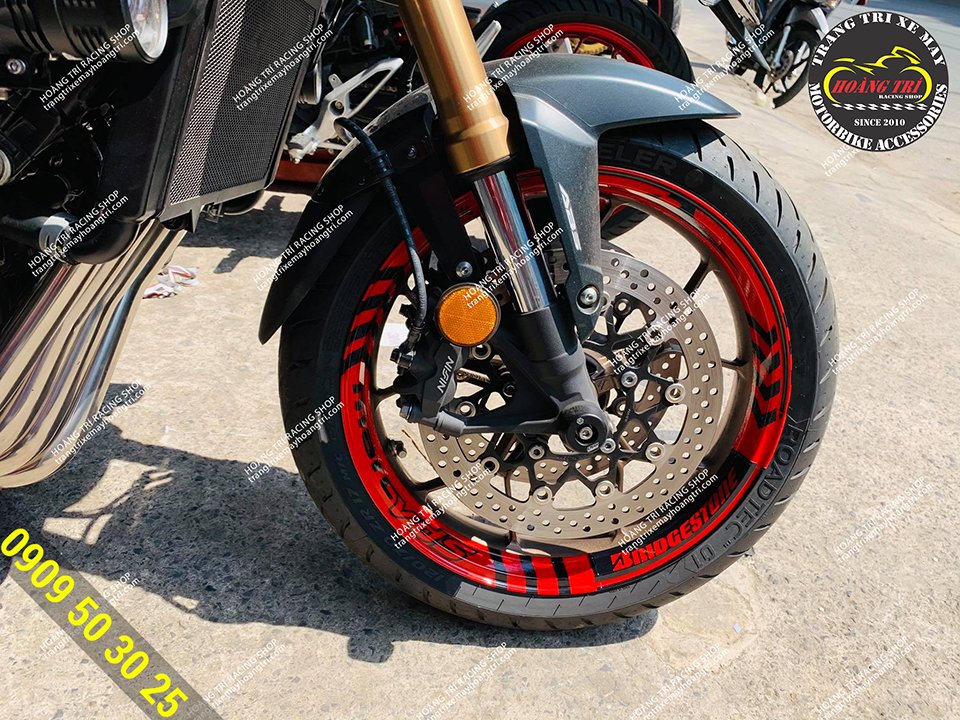 Close-up angle of the front wheel has been pasted with reflective decals on the CB650R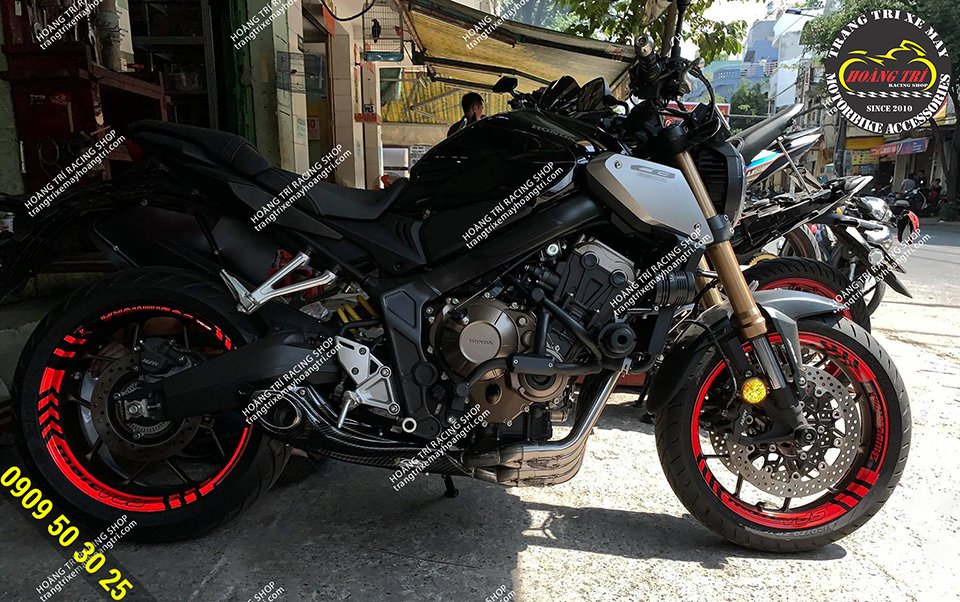 Stand out when the light shines on the decal of the wheels fitted to the car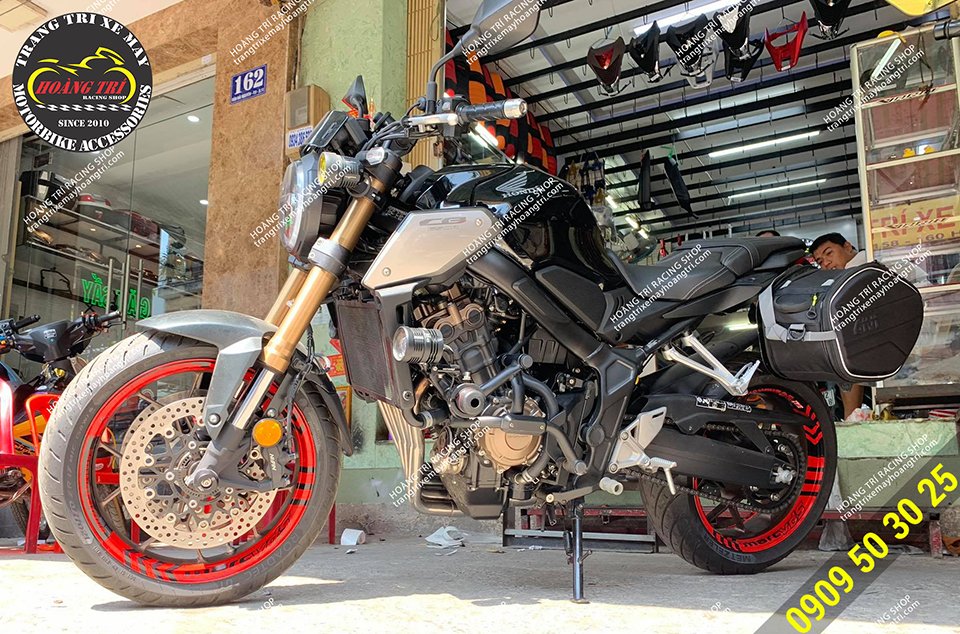 The whole scene of the CB650R has been pasted with reflective decals on the wheels