Playing motorbikes has many ways to play including: playing ornamental plants, playing machines and another way of playing is playing motorbikes. Many models of exhaust with excited, burning, warm sound,... However, to be able to customize the motorcycle exhaust for the R15 V3 car, it is necessary to have a standard exhaust to replace the zin exhaust as well as to fit the car well. motorcycle exhaust that you want to customize. Refer to the 2-piece stainless steel neck with a slightly pregnant belly in this article!
Equip the exhaust immediately:  Akapovic R1 exhaust
The Yamaha R15 V3 custom neck product - a 2-piece stainless steel neck with a steam bulb can fit most types of exhaust available on the market today. Designed with stainless steel material, anti-rust, bringing high durability to the product. Designed with 2 separate sections to help people who are far away can buy and equip their pet, more neatly during transportation. Above all, the product is also vaporized.
What is the function of the steamer?
The common steam bulb is made from 304 stainless steel to bring the durability of stainless steel and due to the use of 304 stainless steel material, the product is completely anti-rust, even if you go in the rain or leave it in the sun, the pot will still keep its original condition. head, sparkling like when bought new.
The steam bulb is effective when there are filters and baffles inside to keep the pressure stability in the muffler even and stable when returning to the gas or increasing the throttle suddenly. The steam bulb retains 30% of the pressure and only pushes out 70% of the steam out, helping to ensure the stability and sound of the exhaust every time you hiss or release the gas suddenly. Hoang Tri Racing Shop  advises  on the same muffler with the air bulb  so that the exhaust can bring into play its full effect to help the car get a better sound, the sound is not as discrete as the large displacement vehicles.
If you are planning to customize the exhaust of the R15 V3, don't forget to add and equip your pet with a muffler so that it can be installed quickly without any further preparation. Or if you are in Ho Chi Minh City, immediately visit one of the 2 branches of Hoang Tri Raicng Shop for advice and installation support for your pet.
Address 1:  158 -160 Han Hai Nguyen, Ward 8, District 11, HCMC
Address 2:  586 Pham The Hien, Ward 4, District 8, HCMC
Phone:  0909 4747 13 - 0909 5030 25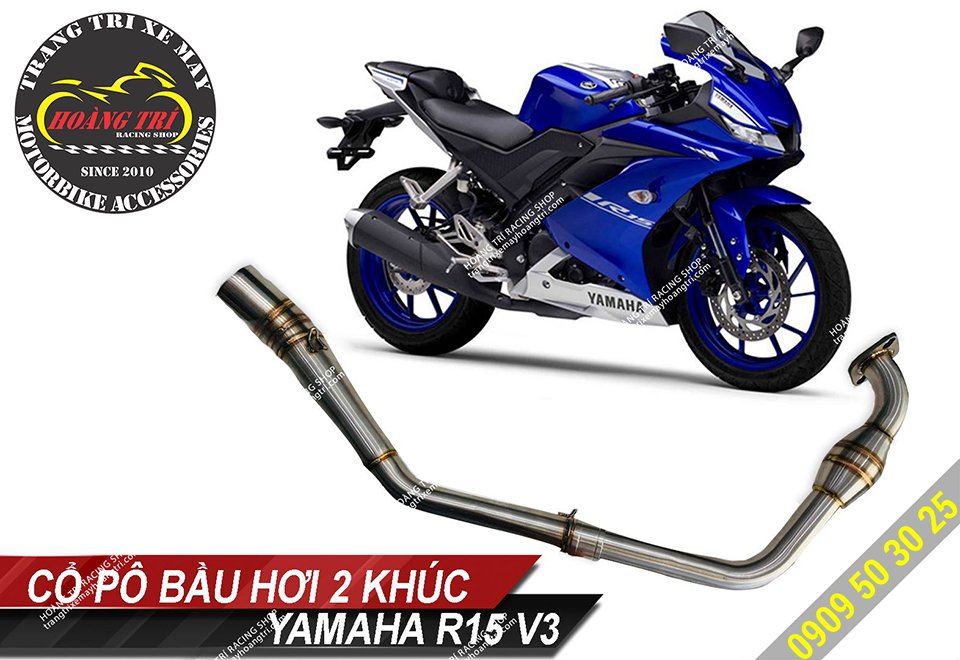 Close-up of the neck of the Yamaha R15 V3 - Stainless steel neck with 2 parts